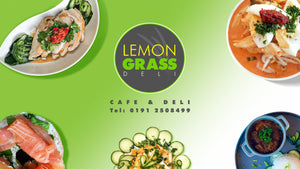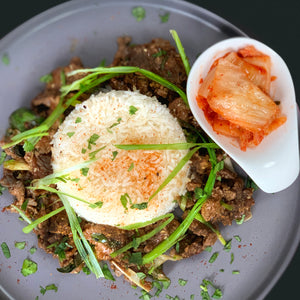 Lemon Grass Favourites - Korean Beef Bulgogi
Savour the sweet and savoury flavours of our Korean Beef Bulgogi dish. Thinly sliced strips of marinated beef are grilled to perfection, delivering a juicy and tender bite in every bite. The marinade, made with a blend of soy sauce, brown sugar, and other spices, imparts a rich and complex flavour to the beef that is unmatched. Served with lemongrass steamed rice and a side of kimchi, this dish is a true Korean classic. Perfect for those looking for a hearty and flavourful meal, don't miss out on this Korean masterpiece and order now.
We are open with seating inside and outside so please come and join us. Opening times 9:00am - 5:00pm (Tues-Wed), 9:00am - 6:00pm (Thurs) Extended hours on Friday & Saturday 9:00am - 7:15pm. All your favourite dishes for lunch and dinner, including a selection of coffees, teas and sandwiches, not forgetting a wide range of delicious cakes - check out our vegan and gluten free varieties online and in store. Week day and weekend collection during shop hours. Order online or calling 0191 250 8499.
---
In This Together
THANKS to the NHS and all key workers, who continue to do a tremendous job....... #STAY SAFE
Lemon Grass Deli - 40 Merton Road, Ponteland, NE20 9PS. Tel: 0191 2508499